ŽQ‰ÁŽÒ'̃Œƒ|[ƒg

I enjoyed the English camp a lot. I think that every one of us had a very good time.
We set at Yokkaichi Station.Before I got on the train I knew nobody except Miss Zhen, but we introduced ourselves to each other in the train. Next moment, we were enjoying chatting together in English. I couldn't believe we had only just known each other for a moment.

At the training camp, the air was very fresh and the natural scenery all around was very beautiful. First we were divided up into three groups. I was in luck because the girls in the same group with me were very fair and sweet (laugh). We would be playing a game called "scavenger hunt" on the second day. So we needed to find some difficult questions for the other groups. We just took a walk around the hotel and we found some questions that would maybe take a lot of time to get the answers for. That was not bad : -)
HO~~HO

We cooked for ourselves, with each team cooking in turn. We also help other people cooking and cleaned up the tables. After that we played games. In the first round my group was a long way behind the others. But we worked hard and did the best we could, and in the end we won the game. We were so happy to convert defeat into victory.

The second night I was deeply moved by a birthday party that was held. I and a girl in the same group as me had almost the same birthday. The others celebrated our birthdays. We got flowers and were given a birthday party. That was one of the best birthdays in my life. I was so happy that I don't know what to say. I can just say thank you to everyone. Thank you for the birthday party.

After a while we went out and made a camp fire on the beach. We played games with the teachers, and we enjoyed it a lot.

Through the Short-term English House, I made many new friends and improved my English. Next time I want to join in it again. Let's enjoy English. Last of all, thanks to the ESL for everything.
@March 17@(Tue)

I was tense because I had never spoken to almost all the people, but we readily made friends because people were all so friendly. We introduced ourselves to each other and we told about school life and hobbies.

In the evening, after we arrived at the cottages, we enjoyed playing a game. Then we ate dinner. The menu for the day was pasta with 2 kinds of tomato sauce (seafood and vegetable) and salad. It was all very good.

After dinner, we enjoyed playing the Pictionary game. I was at a bit of a loss because I couldnft express the word I wanted to, but it was a fast exciting game and we had a good time.

After that, we went to the nearby hot spring. I hadnft been there for a long time. Then we went for an open?air bath, and looked up at the sky, I was enchanted by the beautiful sight of all the stars twinkling up there.

Finally we returned to our own cottage. The people in my team got together to think about questions for tomorrowfs gscavenger hunth. And then I went to bed. But I didnft sleep well because my nose was stuffed up.

March 18 (Wed)

I got up at 6:00 for our teamfs turn to make breakfast. We assembled at 7:00. Todayfs menu was toast, rolls, scrambled eggs, salad and soup. I took charge of making the scrambled eggs. I have never scrambled eggs for 15 people, so it was no easy matter. But somehow it was fun. Then, everyone ate breakfast with gusto, and that made me glad.

After breakfast, Mr. Kirk and Mr. Dykes taught us some Cooking English. I found the lesson good. And then we ate lunch. The lunch menu was beef stew with 2 kinds of sauce (regular & tomato).

Then we enjoyed the scavenger hunt. We were given questions made by another team. It was very difficult. It took us 40 minutes, and our team finished last. But there were no mistakes. I felt wonderful because of the great cooperation among own team members.

Mr. Bray arrived during the scavenger hunt, and we enjoyed a snack time. After that, we ate dinner. The dinner menu was soy sauce NABE and miso NABE. A NABE is a kind of potluck meal. Both of these NABE were delicious. I had several extra helpings.

Then, we had a birthday party for Chin Rai and Yukako. The plans for this were secret, and both of them were surprised. We gave them a bunch of flowers each and a cake.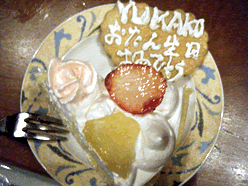 Then, we sang songs to Mr. Brayfs guitar. As a guitarist, he is cool.
After that, we went out and enjoyed a camp fire. We had a good time.
March 19 (Thu)
After breakfast, we packed up our things, and then we took a walk around the hotel grounds. There were various species of plants to look at. Then we climbed up to a lookout point and gazed at the very beautiful view. After getting back to the hotel, we ate lunch and then it was time to leave.?
We had a good 3 days, but I found that when I was together with Japanese people we spoke only Japanese. We had to speak English, but I spoke Japanese. Still, this program jolted my thinking, because there was a collection of people including native English speakers and students from several countries. So it gave me a stimulus to try to use English.?
I want to take advantage of this opportunity and go on making progress in my English.
Thank you.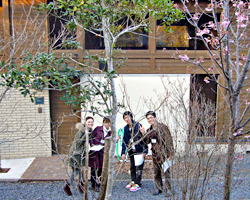 When our group met up in front of the ticket counters at Yokkaichi Kintetsu Station just after midday on 17th March, some of us were strangers to each other, while some others knew each other before. But then we tried talking to each other about our backgrounds, and soon we found things were getting deeper and we were getting to know one another better as the time went byc

Itfs kind of a rare thing to have a chance to talk in English here in Japan, because English is hardly used in peoplefs daily lives since they are so surrounded in every area of life by Japanese. In my country, Indonesia, for example, we are used to hearing foreign movies undubbed on every TV channel. In other words, in our daily life we can watch movies in the original soundtrack with characters using English, and not dubbed into the local language, which is Bahasa Indonesia.

In contrast, in Japan, not only in movies but in every single thing, the original language, especially if it is English, is always turned into Japanese. Thatfs why we find it so hard to get used to listening, at least, to English conversation. From my experience, since everyone loves entertainment, that is an easy way through which to learn English quickly. Just as in the example I gave above, the original movie must be shown as it is, and not dubbed into Japanese.

Through this study tour, with a different kind of situation and new friends, we have got a new atmosphere. We may be an egoistic kind of person, but in this tour everyone helps each other, so tolerance for joining in activities is much stronger. For example, one bunch of people has to cook for everyone, and another bunch has to wash the dishes. And each activity goes round the groups in a cycle. This is one effective way of getting easier communication with others, and it is the best way to practice our English language in daily life, 24 hours a day, from the time we wake up in the morning to the time we close our eyes at night, continuing for 3 days. This is the best routine for practicing our skill and finding the courage to speak freely in the other language. We are glad that we have the chance to do that.

At first, when women and men were divided I thought that this would be boring, but it wasnft. The activity that followed mixed us into groups that included 2 men and 2 women. That was the first step to making us draw closer together with other members in the same group, in order to get through to each other. And that was why, when it was time to gather together and have our meal, we were not just in groups anymore but the groups had become units in a large English community, even though our backgrounds were quite varied and we were from different countries.? ?

We had quite a hard time speaking in English at the start, including me, because I must admit that I have had several years of not using English at all. It is kind of hard trying to adapt again to English communication, especially conversation. But thanks to the shared activity, everyone was able to adjust their minds to English step by step, and this made it much easier to loosen up our bound ideas in English. After so many years of being strained in our thinking, it ainft that easy to relax and go back to using English constantly.

Because of the activity together, we have the courage to make moves in conversation, and we can manage not to be ashamed of making mistakes when we try to speak in English. In this way, everyone gets to be relaxed enough to speak out in English, even if it is kind of just a few words. Living like in a camp amid natural Japanese surroundings helps to refresh our brains and brings out the desire in us to advance a bit more in English conversation each day. We lived 2 days like this, and it caused a huge change in our lives, giving us more confidence in speaking English.

Jobs like cooking were not the only sort of activity carried out. Another activity was listening to songs and trying to guess some of the lyrics. This makes us want to try our skill in a style more like literature, in a way that is fun and relaxing. It brings quite an advantage to test our skills in English in two different ways, one more literary and the other more active.

Another activity was just like a treasure hunt, but it was called a scavenger hunt. In this activity, we try to use not only our brains, but also our lips, our hands, and the whole of our bodies. We have to use our intelligence, too, to find the answers to a variety of questions. And the question of who wins the activity is not as important as it seems. The real point of it is the experience of cooperating with each other.

Thank you for everything, we are very fortunate to have had this experience. This program doesnft just help our advancement in English language skills, but also teaches us how to appreciate ourselves as persons and as human beings living in a community. We are able not just to live in a small place like Japan, but to live and successfully communicate all over the world by using English as the international language. If this activity could be held more often, at least once every 3 months, it could be more effective and livelier, donft you thinkH
I felt it was a good activity in nice cottages. I also think I used English more than I did last year. So I made many friends and had a good time. I want to go again next time.

This training camp was a very happy experience for me.
I felt full of unease at first. I wondered if would spend all day on my own not being able to speak English with people. However, we began using English more in our group when we needed to talk about making the meal. Because we wanted to communicate in English, we just talked on while looking things up in the dictionary.
The activity that left an impression on me was the scavenger hunt. I think everyone had to think about the questions, and in that way our bonds deepened.
The thing that surprised me most was being given a birthday party. When the lights went out in the room and the cake and the flowers were brought in, it was so moving that I felt tears coming on.
In the three days it was possible to get intimate with people, and it was a very good experience talking with the international and junior-year students. There was a mysterious feeling of being in an overseas country though we were really in Japan.
For the future, I have a strong motivation to study English. I will never forget the time we shared.

I think that most of you have been traveling, but have you been on an English trip which we call a gshort term English househin our university? If your answer is gnoh, how about reading the following.

This month, thanks to our university, it just cost us 5000 yen to go on a three-day tour. I took part in the tour not only because it was cheap, but also the most attractive thing to me is that we can use English. Since I came to Japan, I have always kept thinking about how to use time more efficiently, so I have come to like the proverbgkill two birds with one stoneh. This event allowed us to kill two birds (laughc). Striking the balance among my part-time job, studies and pastimes is a difficult thing for me. Anyway I decided to forget all worries and enjoy the time.

The first day
The sweet cottages were waiting for us

In the morning, I got up much earlier than usual. After I arrived at the rendezvous I found that I was one hour early. So I went around the station to take in the fresh air of morning. It was a wonderful day. The sun smiled, and seemed to be talking to me gHey, Tei, have a good timeh. I was a little nervous, but when I saw the sunfs smiling face I knew I must have a good time.

When I got back to the station, somebody else had arrived there too. It was Takaaki, I had met him before at the university. Then along came our teacher Dan. He had two bags with him. One was hanging in the front.? The other one was hanging in the back. We exchanged greetings. Gradually more and more people came. While I was absorbed in chatting, somebody hit my back suddenly. After I turned around I found Professor Iwasaki was there. She never told me that she would come. It was a surprise. She brought some donuts for us and took photos of us, but she had to go back to the university soon, she said. However, for her donuts, we forgave her (joking, laughc)

gLetfs goh the sweet cottages must be waiting for us. I couldnft help thinking of it. It took about three hours to get to the hotel ,but thanks to the smiling sun, the donuts, and the beautiful scenery, it didnft seem to take such a long time. On the way we spotted some pearl factories and oyster farms.

At the hotel, our teacher Syoko was already waiting for us. It was a quiet place, and eventually we saw our sweet cottages. They seemed to be waving to us, and saying gwelcome, girls and guysh.

We were divided into three teams and chose our own team names. The names were globsterh, gpearl shellh and ghappy timeh. I belonged to the Lobster team. After walked around the hotel grounds, we had pasta and salad for dinner which was prepared by the Happy-time team. It was delicious. Then we had some chatting time and played games.

Before we went to bed, some of us went to the hot spring. That was the end of the first day.



The second day
There was so much surprise and func

Following the schedule, our Lobster team had to prepare the breakfast. We got up early to gather the ingredients from the four cottages. Ifm not a good cook, so I helped the others to arrange the dishes and cut the cabbage into slices.

As soon as we finished breakfast, we set off for a Scavenger Hunt. Do you know the gameHWe prepared the questions about the hotel grounds ahead for another team. And they prepared questions for us. After we got the questions, we had to try to find the answers all around the hotel. The time was limited, and the team that completed the questions fastest would be the winner. We all tried our best, but the most important thing was not who was the winner, but having fun through the game, as we tried to use English and cooperate with others.

In the day, we also had an English cooking lesson. You know there is usually little chance to use English in daily life, especially for cooking. Teacher Dan told us how to make the onion soup. We noted down what was said so that we could repeat it by ourselves. And we exchanged ideas about food culture in English. Through the lesson I found one more thing that was interesting. Most of us came to like a particular word. I will tell you what it was in a moment. Do you ever warm things up in the microwaveHAnd do you know a shorter expression for it? It is NUKE. It sounds terrible, doesnft it! It is explained as to gattack a place with nuclear weaponshin the dictionary. However, we can also use NUKE to mean gwarm something up in the microwaveh. So we nuked our rice-balls, pasta and milk and so on for the following days.

On the second evening we had a campfire. We decided the campfire games by ourselves, and we wanted the teachers to join in the game too. So we prepared parts for the teachers.

By the way, just before we went to the campfire, something surprising happened just as we were finishing singing with our teacher Eric. The lights were turned off, and somebody brought two birthday cakes and flowers in. we didnft even know what had happened and whose birthdays they were. It was a surprise.

Ok, letfs get back to talking about the campfire.

It was dark and we walked along the quiet road with our flashlights. The wind blew, the leaves sounded happy to welcome the beautiful night. The stars shone, and seemed to be smiling to us and sayinggDonft be afraid, we are here to protect you from dangers, we will give you lighth. Then we got to the sea. The sand is so soft that it made you want to lay down and enjoy the sea breeze and talk with the starsc but we had to gather some tree branches for the campfire. We gathered around the fire to listen to songs and did some games.

The time flew, and soon it was time to take the same road back...

There had been so much fun and excitement c That night I slept especially soundly, even if there had been an earthquake I would not have woken up.



The third day
Took on the bus, we wave to the sweet cottagesc

When I got up, I found it was extremely quiet, nobody had got up except me. When I met our teacher David, he told me that something had happened in the second night. One of our team-members had been taken sick suddenly, and at that time he was still in the hospital. However, thank goodness, he was all right.

We wished our sick friend a quick recovery, and welcomed in the last day of cottage life. We walked up the forest road, chatting with our cottage friends, and had a pine cone fight. Finally we came to the hilltop, and there was a sight of the vast sea and sky. We took in the beautiful scene with our eyes and mind. Of course we took photos with cameras too (@ @).

Then we got on the bus, and waved goodbye to the sweet cottagesc
T's report
I was very happy to be with a lot of really good people, because they helped me
when I was flapping around like a fish out of water (laugh).
The program for the English trip was very nice, so I enjoyed being in a team
using English.

The trip made me feel I wanted to study English a bit more, and it gave me the
feeling that I wanted to face up to the challenge of using English if I have a
chance to in future.

Taking part in the Short Term English House was a really enjoyable experience.
KH's report
I had a good time when we went to Kashikojima, and it will stay with me as a fine memory. The things on the program were all fun, and I was able to get a lot of good experience. So through that, I came to like English more.
Particularly I was happy that we had a chance to cook, because I found that it made our group cooperate with each other. It felt great to complete a task that everyone was participating in.
My favorite activity was walking through the natural surroundings. When we arrived at the observation point, we saw a beautiful view.
I want to go back another time with all my friends. And of course, we must talk English.

EN's report
I found it very good that I took part in this English language camp, because it gave me a precious experience that I will remember all my life.

The first day, I got very nervous. I was invited by my friend, but I didnft know anyone except her. I was worried about how to communicate in a situation like that. I am the model shy Japanese, and itfs hard for me to interact affirmatively with other people. At this sort of event, I thought I needed to make an effort to approach people. It was very hard to do at first, but I gradually tried talking with everyone, and everyone was kind and friendly. Because of that, I was able after a while to talk more freely. I felt happy and a little nervous at the same time. These were my first feelings, but I felt we could become close friends.

There were various good things. The sight of Ago Bay from the top of the hill was very beautiful and satisfying. What a refreshing breeze! The sunshine and unassuming natural surroundings did me good, too. Ifd like to come another time and look around more slowly. There were nice places and I felt moved by them.

The meals were good too! Making meals for ourselves was really fun and an important experience. Teamwork brings us many things, for example harmony and a sense of deference for how other people act and think. Working together teaches us deference. Where there are many people there are many minds.

But we had one very bitter experience, too, when someone was taken ill. I was shocked and felt scared. I had no idea what I could or should do. So I just raced to guide the ambulance. It was a difficult situation to handle, but afterwards I thought that it was an excellent thing to go through in another sense. I believe I gained something from it.

Thinking of it all, I find that I gained many things through this club camp. I picked up some fantastic memories! Ifd really like to participate in the English camp again next year.

Thank you for inviting me! I loved meeting everyone, and Ifll try to stay in touch with them in the future. I was also happy to get to know the English teachers, and Shoko. When we meet, itfs English time!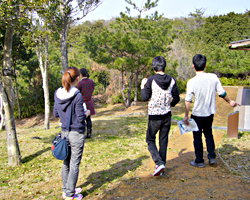 EN's report
I will make a few remarks about the Short-term English House Program.
First, I have found that I haven't spoken enough English since getting back from Australia a year ago. I can speak English with native English speakers and other overseas people, but I don't know why I can't speak English with Japanese.
Anyway, I decided to speak English more, so I joined the program.
On the 17th, when we assembled at Yokkaichi Kintetsu Station, I found that a total of 16 people were taking part (8 students from Yokkaichi University, 4 from Yokkaichi Nursing and Medical University, and 4 great teachers).
We spent three days near Ise in the south of Mie prefecture, and we stayed in cottages belonging to the Hotel Aqua Villa.
We cooked all kinds of dishes together during our stay there, we did a lot of activities (talking, singing, making a campfire, etc...), and we got a lot of memories. Also, I talked seriously about my school life with Professor Kirk.
All in all, I really enjoyed these days. I can speak English more than before I joined the program and I had a chance to make some good friends.
Thank you, guys.
Thank you, professors.
Thank you, Ms. Shoko.