ŽQ‰ÁŽÒ'̃Œƒ|[ƒg
Short Term English House

I participated in the Short Term English House again. The program was poorly attended this time, but I had an enjoyable time! It was good to get together with the other people I knew from the ESL. We hadn't met up for a long time.
It rained intermittently for three days, so we had to stay inside, but we enjoyed playing card games, watching a movie, singing to the accompaniment of a guitar, and just talking about ourselves. On the second day, Mr. Bray made a pea soup for us. I really enjoyed this.
A good point about this program is that we were able to experience things in English for a lot of the time. If we make mistakes, the teachers can help us. On top of that, we get to learn a lot of expressions peculiar to English. And, we can learn the differences between British English and American English. It's very interesting.
As for the bad points of the program, I couldn't find any. I hope to join in next year againc For the present I haven't any more ideas for things to say. Sorry!
Thanks, everyone.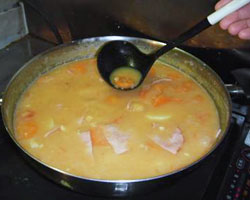 'r'ˆ''''"@'s'…'''@'d'Ž'‡'Œ'‰'"'ˆ@'g''•'"'…@'Q'O'P'O

'h spent a good three days at this year's English training camp. I went last year, and had a really happy time then, so I thought I could benefit by participating again.
Unfortunately, the weather was bad this time. We spent most of the time in the cottages because it rained without a break all through the second day. We still enjoyed ourselves singing and playing games, and thinking up games of our own. But I had been hoping to enjoy the rich natural scenery more, and to have a campfire outdoors.
We separated into two teams for the camp, and cooked meals alternately. For lunch on the second day, Eric Bray made split pea soup. It was our first time to try it, and it was delicious.
In the evenings we went over to the spa bath together. And after that we had a good time staying up late into the night and talking.
This year I felt I was able to talk English more positively than last. Now I'm looking forward to writing my next set of memories about the camp next year. It was really enjoyable, and I certainly mean to come again.

Short-term English House 2010
Kana Hibino
For me, this was an ESL to remember because I enjoyed talking about different things with everyone. So I am having more and more fun with English!!
I will arrange my ideas in three parts: first, good points; second, bad points; and last, additional points.
First, the good points
I like the Aquavilla Iseshima site because we can make meals ourselves and use the house freely. I like staying in a villa cottage with a group of friends. Also, there's a big bath. That's my favorite thing!!
In addition, I felt it was a friendly atmosphere because most of the participants were the same people as last year. So we could immediately enjoy each other's company.
Second, the bad points
It was a pity the weather was so bad, with rain and strong winds. It was like being in a typhoon. I wanted to do things outside. But it was fine doing inside activities instead, because everyone could talk about all kinds of things. And I enjoyed UNO. I think it's a really great game!
Last, the additional points
If it had been better weather, I'd have liked to do a camp fire!! We could have sung songs, danced and so on. I want to do all these things together another time.
And how about a tournament, a "game taikai"?? The winner could get a prize. I want to hold an UNO tournament.
If I can, I want to go again next year. And between now and then, I want to go to the ESL a lot.
I took part in the ESL short trip to Shima again this year. Here's what I thought about it.
‡@ @The good things about the trip.
If I were to advise you about going on the next ESL short trip, I'd make the following two points.
First, I felt I was able to spend a long time studying English, and speaking English with native speakers.
Second, we had to make breakfast, lunch and dinner ourselves. So it gave us the chance to make good friends.
‡A @The not-so-good thing about the trip
This year it poured with rain, so we couldn't do any activities outdoors.
We had a good time at the ESL camp at Shima. The good point about the stay was that it was a chance for studying English hard.
The bad point is that the weather was terrible.
There's nothing more to be said!